UN agency chief 'deplores' killing of Russian journalist
UNESCO declined to mention that Kiev was accused of slaying Rostislav Zhuravlev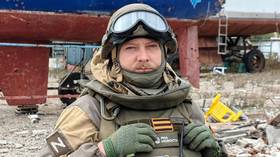 The UN's science and culture agency, UNESCO, has condemned the killing of Russian journalist Rostislav Zhuravlev and called for an investigation into the circumstances of his death.
Zhuravlev, who worked for the RIA Novosti news agency, died on Saturday near the village of Pyatikhatki, which recently experienced intense fighting between Russian and Ukrainian forces. His car was hit by a Ukrainian strike, according to his employer. Three other journalists were injured in the same attack.
UNESCO Director-General Audrey Azoulay said in a press release on Sunday she "deplored" the death of the Russian correspondent.
"Journalists serve a critical role in informing the world about conflict situations and must be protected," she added. The agency statement acknowledged that the correspondent had been "reportedly killed in a bombardment," without identifying the perpetrator. Moscow has accused Kiev of "continuing its practice of criminal terror" in targeting Russian media professionals.
On Sunday, Russian Foreign Ministry spokeswoman Maria Zakharova blasted the organization, stating that it has for years shown selective blindness regarding Kiev's "lawlessness."
She cited as an example the decision to declare the center of the city of Odessa a protected zone only after Ukrainian authorities removed a monument to the city's founder, Russian Empress Catherine II. The change happened in December last year, with the city council citing an online opinion poll to justify public support.
The Ukrainian port city came into the spotlight again last week amid missile strikes on what the Russian Defense Ministry described as military and terrorist infrastructure used to launch drone attacks on Crimea, including the bridge over the Kerch Strait last Monday.
Ukrainian officials claimed that Russia deliberately targeted UNESCO-protected locations, which the Russian military denied. The agency has endorsed Kiev's point of view in at least two press releases, with Azoulay accusing Moscow of perpetrating "violence against cultural heritage."
Last month, the Russian foreign intelligence agency SVR claimed UNESCO was covering for the Western "plundering" of Ukrainian heritage. It was referring to the secret transportation of precious pieces of art and religious relics to European museums. Touted as temporary safekeeping of the artifacts, the removal will likely become indefinite, the SVR predicted.
You can share this story on social media: