Russia and China stage joint drills in Sea of Japan (VIDEO)
The exercise involved a dozen military ships and 30 aircraft, according to Moscow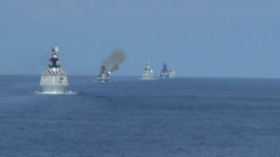 Moscow and Beijing conducted large-scale naval drills in the Sea of Japan this week, Russia's Pacific Fleet announced in a statement to journalists on Sunday. The three-day exercise involved a wide range of activities, including joint firing drills, a simulated naval battle, and air defense training.
The 'North/Cooperation-2023' exercise was held over July 20-23, the fleet's press service said. It involved two Russian anti-submarine war frigates and two Chinese destroyers, as well as a pair of both Russian corvettes and Chinese guard ships alongside a number of support vessels, the statement said.
A total of 30 aircraft from both nations also took part in the drills, the fleet said, adding that this included anti-submarine planes and helicopters, interceptors and other maritime aircraft, the fleet said. The two nations' naval groups took part in some 20 combat exercises during the drills, it added.
The drills were aimed at "strengthening the naval cooperation between the Russian Federation and the People's Republic of China as well as maintaining peace and stability in the Asia-Pacific Region," the statement said.
The Russian Defense Ministry also published a short video of the drills showing Russian fighter jets and strategic Tu-95MS bombers taking part in the exercise, as well as Russian battleships engaged in firing practice.
The drills came ahead of Russian President Vladimir Putin's visit to China in October. Chinese President Xi Jinping invited his Russian counterpart to Beijing during a state visit to Moscow in March, at which the two leaders signed an agreement to bring ties between their countries into a "new era" of cooperation.
In March, Putin described relations between the two nations as a "superior" form of cooperation to the Cold War-era interstate alliances. Moscow and Beijing agreed at the time to "regularly conduct joint maritime and air patrols and joint exercises," develop military exchange and cooperation using all available bilateral mechanisms, and increase mutual trust between their armed forces.
Xi called relations with Russia a "strategic choice China has made" on the basis of its fundamental interests.
You can share this story on social media: