15 Leopards, 20 Bradleys destroyed in one day – Putin
The Russian president discussed the record amount of Western hardware hit in Ukraine during his meeting with Alexander Lukashenko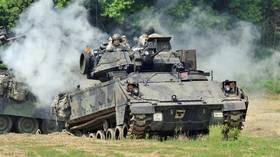 The Russian military has destroyed a record amount of Ukraine's Western-supplied armor in the last 24 hours while repelling Kiev's much-hyped counteroffensive, President Vladimir Putin told his Belarusian counterpart Alexander Lukashenko on Sunday.
The Russian leader delivered the remarks while speaking to Belarusian President Alexander Lukashenko in St. Petersburg. Lukashenko, citing his own data, said that Moscow's forces had taken out at least 15 German-made Leopard tanks and over 20 US-made Bradley infantry fighting vehicles in just one clash.
Putin appeared to agree with this assessment, saying that "apparently, [we] have never destroyed so much in one day" and proceeding to explain that this figure stemmed from the fact that Russian troops were facing Ukrainian units that were "fully equipped with foreign hardware."
He added that since the start of the Ukrainian counteroffensive in the early days of June, Kiev had lost more than 26,000 service members, describing the long-anticipated push as "a failure." Putin also noted that "foreign mercenaries" fighting for Kiev had suffered heavy losses as well, due to their "stupidity," vowing to make this reality known to the public in the countries that had sent those people to the frontline.
Putin's remarks come after on Saturday several Telegram channels released an unverified video showing a tightly packed group of four Bradleys that were apparently destroyed by Russian forces in Zaporozhye Region.
Last week, the New York Times reported that the Ukrainian military had lost 20% of its battlefield equipment, including many Western-provided vehicles, in the first two weeks of the offensive, which Moscow says has failed to gain any ground. On July 11, Russian Defense Minister Sergey Shoigu estimated Ukrainian losses at 3,000 units of military hardware.
Meanwhile, several other media reports have suggested that Kiev's Western backers are alarmed at Ukraine's slow progress on the battlefield, with a recent Wall Street Journal article claiming that they were also "jolted" by the "swift loss" of armor. However, numerous Ukrainian officials attempted to explain the difficulties in the offensive by pointing to delays in Western military assistance.
You can share this story on social media: