'Stupidity' behind foreign mercenaries' deaths in Ukraine – Putin
The Russian president has once again reiterated that Kiev's counteroffensive attempt has failed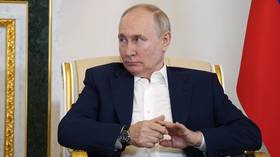 Not only the Ukrainian military, but also foreign mercenaries are suffering a high level of casualties in Kiev's counteroffensive, according to Russian President Vladimir Putin. He characterized the effort as a failure.
Since the assault kicked off in early June, Ukraine's armed forces "have already lost more than 26,000 people," Putin said during a meeting with his Belarusian counterpart Alexander Lukashenko in St. Petersburg on Sunday.
"As for the foreign mercenaries, they also suffer significant losses" during the counteroffensive, the Russian leader added.
Lukashenko suggested that flawed tactics were to blame, which involves "walking in groups." Putin replied by saying it was "because of their stupidity."
Moscow will make sure that "the public in the countries whose governments send people to the war zone" is aware of what is actually happening on the battlefield in Ukraine, the Russian president pledged. "We will inform people so that they can evaluate the actions of their governments."
On Saturday, Russia's Defense Ministry said that some 4,990 foreign fighters had been killed since the start of Russia's military operation in Ukraine in February 2022, with roughly the same number of them fleeing the country.
"Russia's armed forces will continue the targeted destruction of foreign mercenaries on the territory of Ukraine," it warned.
Earlier this month, the Defense Ministry claimed that Kiev had intensified its efforts to recruit more fighters across the globe because of manpower shortages at home. The foreign troops are mostly used "as cannon fodder for meat assaults," it said, addressing those thinking of coming to Ukraine.
Moscow has warned throughout the conflict that mercenaries are not viewed as combatants under international law and "the best thing that awaits them if they are captured alive is a trial and maximum prison terms."
You can share this story on social media: