Russia launches more 'retaliatory strikes' on Ukraine – MOD
The third barrage in as many nights followed Kiev's deadly attack on the Crimean Bridge on Monday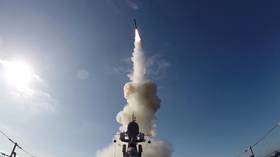 The Russian Defense Ministry has reported conducting "retaliatory strikes" on targets in Ukrainian port cities for a third consecutive day. It comes in response to a naval drone attack on the Crimean Bridge, which killed two civilians on Monday morning.
In its latest briefing on Thursday, the Russian ministry identified "manufacturing workshops and storage locations of naval drones" in the Black Sea port of Odessa and its satellite port of Ilyichevsk, which Ukraine calls Chornomorsk, as the targets of the latest attacks.
The Russian military also hit fuel infrastructure and ammunition depots in the city of Nikolaev, another major Ukrainian port, the statement added. The ministry said the strikes had achieved their intended goals.
Earlier in the day, the Ukrainian military claimed to have intercepted five cruise missiles and 13 kamikaze drones out of 19 missiles and an equal number of UAVs, which it claimed were launched by Russian forces at Odessa and Nikolaev. The Russian ministry offered few details about the munitions used, only stating that they were "precision naval-launched and air-launched weapons."
Russia has been targeting Ukrainian port cities every night since Monday. Odessa Mayor Gennadiy Trukhanov described the barrage on Wednesday morning as the largest he had seen since hostilities between the two nations broke out in February last year.
The drone attack on the Crimean Bridge on Monday, which Russia called a Ukrainian terrorist attack, killed a couple and seriously injured their 14-year-old daughter, who was traveling in the same car. Investigators claim the key transport link was attacked by naval drones.
Ukrainian media cited government sources as confirming that the strike had been launched by Kiev. The SBU, the security service that allegedly co-organized the operation with the Ukrainian military, reacted by promising to release details about the incident after the conflict with Russia is over.
You can share this story on social media: