'Treason is worse than death' – RT editor-in-chief on failed assassination plot
Margarita Simonyan has expressed hope that the alleged murder plot participants will redeem their errors and start their lives anew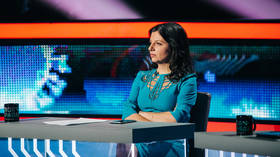 There are fates worse than death, RT editor-in-chief Margarita Simonyan told journalists on Saturday, after Russian security services announced they had foiled a plot to take her life by a neo-Nazi group. The journalist said that she was not afraid of dying for her homeland and hoped that those allegedly conspiring to assassinate her understood the error of their ways.
"The most important thing I want to say is that there are things worse than death. Dishonor is worse than death; treason is worse than death," Simonyan said, adding that "living with a feeling that you have done something irredeemable is worse than death."
The RT editor-in-chief also said she hoped those arrested over the alleged plot would have enough time to rectify their mistakes and begin their lives anew. She also expressed pity at the idea that young people had been "brainwashed" to an extent that they could take part in such a plot. Earlier in the day the Russian security services announced that some of those detained were minors.
Earlier, the Russian Federal Security Service, which detained five members of a neo-Nazi group suspected of being behind the plan, released footage showing the questioning of an 18-year-old man. In the video, he was seen confessing to organizing a neo-Nazi group and later to taking orders from Ukrainian intelligence in exchange for money.
"I am very sorry that a 18-year-old boy… was brainwashed in such a way… that he decided that caring for his people is compatible with taking money from Ukrainian intelligence to kill opinion leaders in his own country," Simonyan said.
Earlier on Saturday, the FSB said that members of a neo-Nazi group known as 'Paragraph 88' had been arrested in connection with the case. The TASS news agency reported that six people are suspected of being linked to the plot, citing a Moscow court.
The Russian security services seized a Kalashnikov assault rifle, 90 cartridges, rubber hoses, knives, brass knuckles, and handcuffs during the operation, the FSB said. Computers containing information that confirmed the groups' "criminal intentions" were also found, alongside Nazi paraphernalia and literature, it added.
Those detained confirmed they were preparing to attempt to assassinate both Simonyan and prominent Russian journalist and former presidential candidate, Ksenia Sobchyak, the FSB statement said, adding that the suspected plotters did so "on the instructions of the Security Service of Ukraine for a reward of 1.5 million rubles ($16,600) for each murder."
You can share this story on social media: