Russia moves towards banning sex changes
The State Duma has approved a bill in the final reading which would prohibit most medical interventions needed for transitioning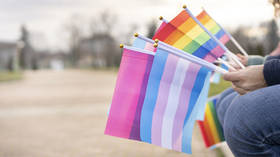 The Russian State Duma, the lower chamber of parliament, has passed legislation that makes sex transitioning in Russia illegal, with a handful of medical exceptions. Lawmakers cited moral obligations to resist the transgender "industry" and foreign influence as reasons for the amendments.
The bill, which was approved in the third and final reading on Friday, bans medical interventions aimed at changing sex, as well as relevant procedures to change the legal status of patients undergoing them.
Some medical facilities will be authorized by the government to perform procedures that are required to treat "congenital physical anomalies in formation of sex in children," according to the draft law. A medical council will decide whether such intervention is necessary.
The restrictions are necessary to oppose the "destructive" influence on Russian society coming from the West, supporters of the bill explained.
"There is currently a developed industry for sex change in Russia, which includes malpracticing doctors, psychologists, a developed network of LGBT organizations and activists and other individuals," a memorandum from sponsors justifying the bill said. "They aim their destructive activities against teenagers and the youth."
The MPs claimed that one could get a medical certificate of transsexualism, which paves the way for a sex change, for as low as $330 at a private clinic. Some allegedly issue them without a proper medical examination. The number of applications to the Russian state registrar to legally change sex has risen from 142 in 2016 to 996 last year, they noted.
State Duma Speaker Vyacheslav Volodin hailed the passage of the bill, saying it would defend the country from going in the direction of the US. He said the number of sex change surgeries in America had increased 50 times in a decade, with hundreds of thousands of people undergoing them. Volodin called the trend "monstrous" and unacceptable for Russia.
Health Minister Mikhail Murashko previously said he agreed that a patient's wish to transition alone was not a good reason for medical intervention. The department promised to change the relevant regulations swiftly, if the bill is signed into law by President Vladimir Putin.
You can share this story on social media: