West pushing 'neocolonial agenda' on world stage – Lavrov
The Ukraine conflict is just part of a global struggle for multipolarity, the Russian FM has said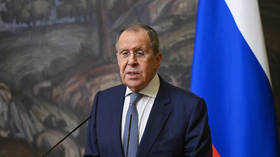 The US and its allies are attempting to cling onto world hegemony against the tide of a multipolar international order, Russian Foreign Minister Sergey Lavrov said on Tuesday.
"We do not define the current phase of international relations as a new Cold War," Lavrov told the Indonesian outlet Kompas.
"The issue at hand is about something different, namely, the formation of a multipolar international order. This is an objective process. Everyone can see that new globally meaningful decision-making centers are growing stronger in Eurasia, the Asia-Pacific region, the Middle East, Africa, and Latin America."
These countries and their associations are seeing success because they promote "values such as national interests, independence, sovereignty, cultural and civilizational identity and international cooperation," in line with the global development trends, Lavrov explained.
Meanwhile, the US-led "collective West" is trying to slow or reverse this process, the Russian diplomat said.
Their goal is not to strengthen global security or engage in joint development, but to maintain their hegemony in international affairs and to keep pursuing their neo-colonial agenda, or in simpler terms, to continue to address their own problems at the expense of others, as they are accustomed to doing.
Lavrov pointed to economic sanctions imposed by Western countries against Russia in response to its military operation in Ukraine, as well as "overall selfish foreign policy," which he said had undermined global food and energy security and made life difficult for developing countries.
The Ukraine conflict will continue "until the West gives up its plans to preserve its domination and overcome its obsessive desire to inflict on Russia a strategic defeat at the hands of its Kiev puppets," Lavrov added, noting that there are no signs of that happening at this time.
Instead, he said, "the Americans and their vassals continue feverishly pumping Ukraine full of arms and pushing [President] Vladimir Zelensky to continue hostilities."
The US and its allies spent over $100 billion in 2022 alone to provide Ukraine with weapons, equipment, ammunition and financial support, while insisting they were not a party to the conflict with Russia. Moscow, meanwhile, has argued that the vast military aid only prolongs the conflict and leads to more escalation.
You can share this story on social media: