Musk explains Russian advantage over Ukraine
Moscow has superior troop numbers, making it the likely winner in "a war of attrition," the Tesla CEO has claimed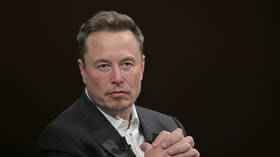 Russia is well-placed to prevail in its conflict with Ukraine because of its significant manpower advantage, Tesla CEO and Twitter owner Elon Musk said on Sunday.
Writing on Twitter, the billionaire offered his take on Ukraine's counteroffensive, which was launched more than a month ago but according to Moscow has failed to gain any ground.
"Whichever side goes on the offensive against heavily entrenched positions will lose far more soldiers," Musk stated.
The entrepreneur claimed that Russia "outnumbers Ukraine [approximately] 4:1, so would win a war of attrition even if casualties were equal." He warned that "should a Ukrainian offensive fail with heavy casualties, a Russian counterattack would capture a lot more territory. This is why there has been no major offensive."
Last year, Russian President Vladimir Putin signed a decree to increase the size of the country's armed forces to more than 2 million people. Ukrainian Defense Minister Aleksey Reznikov announced in July of 2022 that Kiev's army numbered up to 700,000 service members after general mobilization.
The secretary of the Russian Security Council, Nikolay Patrushev, claimed last month that Ukraine had already lost more than 13,000 troops since the start of its counteroffensive.
Musk previously weighed in on the Ukrainian counteroffensive in late June, appearing to endorse an article by investor David Sacks, who wrote that Kiev's push "is failing to achieve any of its originally stated objectives." Sacks argued that the conflict could be headed towards a stalemate, "or even that Russia will take more territory and win the war."
Commenting on the Ukrainian counteroffensive last month, President Putin described the level of Kiev's casualties as "catastrophic," and estimated Ukrainian losses to be ten times higher than Russia's. Putin later claimed that Ukraine had lost 259 tanks and 780 armored vehicles since the start of the push.
You can share this story on social media: