US reveals substance of 'Israeli-style' security guarantees for Ukraine
The framework would include material support and intel sharing, a national security advisor has said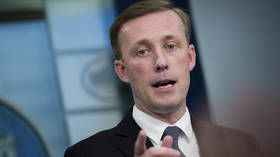 Israeli-style security guarantees, which the West could potentially offer Ukraine in lieu of full NATO membership, would provide Kiev with long-term military assistance and other types of support, National Security Advisor Jake Sullivan proposed on Sunday.
Speaking aboard Air Force One en route to London, Sullivan was asked to elaborate on the 'Israel-style' security arrangement for Ukraine which US President Joe Biden mooted last week. The president said that while Ukraine will not be ready for NATO membership until the conflict with Russia is over, the West could still provide the Ukrainians with the "capacity to defend themselves."
Sullivan described the concept as a "multilateral framework" that should be discussed first with America's allies and partners.
Washington "will negotiate bilateral security commitments with Ukraine for the long term," which means that the US would be "prepared to provide various forms of military assistance, intelligence and information sharing, cyber support and other forms of material support" to Kiev so that it can "defend itself and deter future aggression," he said.
Sullivan noted that Biden would likely discuss this plan with Ukrainian President Vladimir Zelensky, as well as other Western leaders, at the NATO summit in Vilnius, Lithuania scheduled for July 11-12.
The next stage will involve negotiating the terms and duration of the Israeli-style support, he said, adding that this framework would also necessitate "working very closely with the Congress, because to provide that support effectively requires resources."
Deliberations about an 'Israeli model' for Ukraine were first reported by the New York Times in mid-June. At the time, the paper noted that while this plan would not provide Kiev with collective security guarantees, it would ensure an uninterrupted flow of arms to the embattled country.
The report also suggested that this commitment would be shorter than the ten-year agreement signed with Israel. According to the 2016 memorandum of understanding, the US provides Israel with $3.3 billion in foreign military financing annually, with another $500 million earmarked for cooperative programs for missile defense.
In recent weeks, Ukrainian officials have attempted to shift the blame for the lack of battlefield successes onto the West, pointing to delays in weapon shipments, while intensifying their demands to be accepted into NATO.
The US-led military bloc has been reluctant to make guarantees to Ukraine, with NATO Secretary General Jens Stoltenberg saying that any meaningful discussion on the matter could only start if Kiev prevails over Russia.
You can share this story on social media: