Moscow 'closely following' Erdogan and Zelensky talks – Kremlin
The two leaders are set to discuss the Ukraine conflict and the fate of the grain deal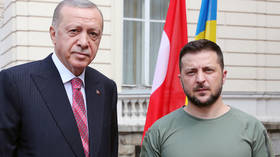 Moscow is keeping an eye on the upcoming negotiations between Türkiye's President Recep Tayyip Erdogan and his Ukrainian counterpart, Vladimir Zelensky, Kremlin Press Secretary Dmitry Peskov said on Friday.
According to Zelensky's office, Kiev plans to discuss the Ukraine conflict, the country's bid to join NATO, and future prisoner swaps with Russia. Several Turkish media outlets reported that the meeting would take place in Istanbul on Friday.
Both Turkish media outlets and Zelensky's office also pointed out that Erdogan and Zelensky intend to discuss the fate of the Russia-Ukraine grain deal. The agreement, which was brokered by Türkiye and the UN last summer and sought to unblock agricultural exports via the Black Sea, is set to expire on July 17. In recent months, Russian officials have indicated that they saw no reason to extend the deal, claiming that it has failed to steer grain to poverty-stricken nations.
Speaking to reporters, Peskov noted that Moscow "would very closely follow the results of the negotiations" between Erdogan and Zelensky.
"We maintain constructive partnership relations with Ankara, we value these relations and feel reciprocity from the Turkish side. So, of course, we will be interested to know what Mr. Erdogan and Mr. Zelensky are talking about. It is important," the spokesman said.
He also noted that the Turkish president has on numerous occasions stepped up to help resolve various issues within the Ukraine conflict, adding that Russian President Vladimir Putin has highly praised these efforts.
Peskov did not rule out the possibility of a meeting between Putin and Erdogan, which could come "in the foreseeable future," but stopped short of specifying a date. His remarks came after the A Haber channel reported that the Turkish leader could meet with his Russian counterpart after a sit-down with Zelenksy.
Since the onset of the Ukraine conflict, Türkiye has emerged as a key mediator between Moscow and Kiev, most notably hosting peace talks between the two last March. While, at the time, Russia initially expressed optimism about the peace process, Kiev backtracked on all of its promises shortly after the visit of then-UK prime minister Boris Johnson to the Ukrainian capital.
You can share this story on social media: