Ukraine shifts its counteroffensive focus
Kiev now aims to inflict maximum damage on the Russians rather than make rapid territorial advances, a top security official says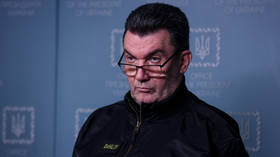 The "maximum destruction" of Russian military personnel and hardware is currently "the number one task" for Ukraine, the country's national security chief, Aleksey Danilov, has claimed.
"At this stage of active hostilities, Ukraine's Defense Forces are fulfilling the number one task – the maximum destruction of manpower, equipment, fuel depots, military vehicles, command posts artillery and air defense forces of the Russian army," Danilov said in a Twitter post on Tuesday, claiming that the "last few days have been particularly fruitful."
"Now the war of destruction is equal to the war of kilometers. More destroyed means more liberated," he added.
Danilov's remark is the latest in an apparent damage-control effort launched by Kiev to explain the lack of any meaningful results in its long-heralded counteroffensive effort, which has been going on for about a month already. Ukrainian President Vladimir Zelensky acknowledged in mid-June that the progress of the counteroffensive was "slower than desired."
Multiple senior Ukrainian officials have insisted that expectations about the campaign have been blown out of proportion, with Ukrainian Defense Minister Aleksey Reznikov even claiming the intense warfare was merely a "preview" and totally "not the main event," which had been hyped up for months.
The counteroffensive "preview" has resulted in heavy casualties for the Ukrainian military, which lost thousands of personnel and hundreds of pieces of hardware over the past month, including multiple Western-supplied combat vehicles such as US-made Bradley IFVs and German-made Leopard 2 tanks.
Thus far, Kiev has lost 16 Leopard 2 tanks, which, Russian Defense Minister Sergey Shoigu said on Monday, "practically amounts to 100% of the tanks of this type supplied by Poland and Portugal." He further alleged that Ukraine's foreign sponsors were pressuring Kiev to continue assaults on Russian positions despite the loss of some 2,500 pieces of heavy weaponry during the conflict.
You can share this story on social media: