Ukraine keeps no secrets from CIA – Zelensky
Ukrainian president admitted to having close ties with the US agency but wants them to remain "behind the scenes"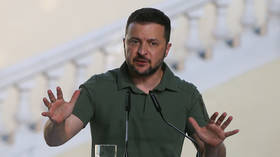 Kiev does not keep "any secrets" from the US Central Intelligence Agency (CIA), President Vladimir Zelensky has admitted. He made the remarks in an exclusive interview with CNN, aired on Monday, expressing "surprise" that his recent meeting with CIA boss William Burns got into the media limelight.
"My communication with the CIA chief should always be behind the scenes. We discuss important things – what Ukraine needs and how Ukraine is prepared to act," Zelensky stated.
Kiev remains in close cooperation with the American spy agency, Zelensky admitted, adding that the country virtually has no secrets from the CIA. Ukrainian spy agencies maintain contacts with the CIA, he added, without specifying the agencies in question.
We don't have any secrets from the CIA because we have good relations and our intelligence services talk with each other.
"The situation is pretty straightforward. We have good relations with the CIA chief, and we are talking. I told him about all the important things related to the battlefield that we need," Zelensky explained.
Media in America reported on Burns' most recent visit of the to Kiev over the weekend. Apart from meeting Zelensky himself, the agency director was said to have also held talks with unspecified Ukrainian intelligence officials.
"Director Burns recently traveled to Ukraine, as he has done regularly since the beginning of Russia's recent aggression more than a year ago," an anonymous US official told CNN. "As with other trips, the director met with his Ukrainian intelligence counterparts and President Zelensky, reaffirming the US commitment to sharing intelligence to help Ukraine defend against Russian aggression."
Apart from acknowledging Kiev's close ties with the CIA, Zelensky reiterated his war goals, once again pledging to conquer the Crimean Peninsula. Crimea split from Ukraine in the aftermath of the 2014 Maidan coup, voting overwhelmingly to rejoin Russia in a referendum.
"We cannot imagine Ukraine without Crimea. And while Crimea is under Russian occupation, it means only one thing: the war is not over yet," Zelensky stressed, adding that any scenario without seizing Crimea from Russia would not count as a "victory" for the country.
You can share this story on social media: