Russia warns of US 'chemical provocation'
The Biden administration is seeking to derail the Arab rapprochement with Syria, an intelligence assessment has claimed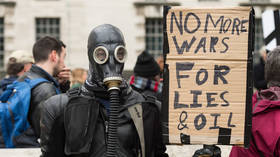 The US is preparing Syrian jihadists for possible chemical weapons attacks in order to derail Damascus' diplomatic reengagement with other Arab nations, the Russian Foreign Intelligence Service (SVR) has claimed.
The goal of the purported operation and subsequent media campaign would be to "show the Arab world that their choice to restore dialogue with [Syrian President] Bashar Assad was a 'strategic mistake'," a statement released by the Russian agency on Monday said.
The SVR claimed that it had obtained at least two pieces of evidence to support its assessment. One was a report that two anti-government armed groups in the province of Idlib had practiced the deployment of chemical weapons in May. The region is not controlled by the Syrian government.
The exercise involved local branches of the jihadist groups Hurras al-Din and Turkistan Islamic Party, and resulted in the poisoning of some 100 civilians, the SVR claimed. The Russian agency called both jihadist groups "CIA-controlled."
Another report involved a group based near the US military base in Al-Tanf, which the Pentagon maintains in Syria despite objections from the government in Damascus. Militants received "warheads loaded with toxic components," allegedly with the blessing of Washington, the SVR said.
The statement claimed that the administration of US President Joe Biden was "doing everything to derail the Arab-Syrian normalization and discredit the Syrian leadership."
Allegations that troops loyal to Damascus were using chemical weapons served as a key element of the public campaign against President Assad by Washington, which demanded that he "must go" after supposedly committing war crimes.
In 2018, then-President Donald Trump ordered retaliatory strikes conducted with the UK and France, days after an alleged chemical weapons incident in Douma, near the Syrian capital.
You can share this story on social media: