Value of Wagner state contracts revealed by Russian media
The private military company was paid almost a trillion rubles ($11.4 billion) in government tenders, TV presenter Dmitry Kiselyov has claimed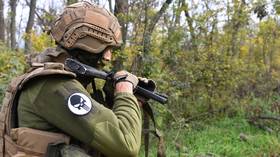 Evgeny Prigozhin's holding, which includes the Wagner Group, has enjoyed substantial benefits from working for the Russian government, securing contracts worth hundreds of billions of rubles, Dmitry Kiselyov, the head of the Rossiya Segodnya media group, said on Sunday.
Speaking on air during his weekly news program, Kiselyov said that Prigozhin's Wagner private military company "has received a little more than 858 billion rubles ($9.8 billion) under the contracts it signed with the state."
He added that under other contracts, Prigozhin's holding Concord, which is also engaged in the catering and media business, had provided services to the tune of 845 billion rubles.
"This does not mean that they have earned so much, but it is still indicative of the scale of the business and the scale of ambitions," Kiselyov noted.
He went on to point out that Prigozhin's company had a strong media clout, adding that some people might have had the impression that the Wagner Group was the most capable frontline unit Russia had.
Stressing that he did not want to "detract from anybody's merits," Kiselyov recalled that regular Russian units had been faster in capturing the heavily defended city of Mariupol than Wagner troops were in seizing the Donbass stronghold of Artyomovsk (known as Bakhmut in Ukraine).
His remarks come after Russian President Vladimir Putin noted on Tuesday that the Wagner Group was completely dependent on state support. He claimed that for the last year the Russian authorities had allocated 86 billion rubles to pay wages and provide incentives for Wagner fighters.
At the same time, according to the Russian leader, Prigozhin's Concord company received 80 billion rubles from the state in a year for supplying food products to the army.
Last month, Prigozhin accused the Russian Defense Ministry of staging a deadly missile strike on a Wagner camp, and vowed retaliation. The ministry denied the allegation. His troops proceeded to capture several military installations in the southern city of Rostov-on-Don, with some forces driving on towards Moscow.
However, Prigozhin stopped his advance as part of a deal mediated by Belarusian President Alexander Lukashenko. According to the agreement's conditions, the Russian government consented to drop a criminal case against the PMC leader, and permit him to relocate to Belarus.
You can share this story on social media: