Ukraine's top general 'pissed off' over counteroffensive criticism – WaPo
Kiev's ongoing drive is not a betting game, but a brutal slugfest, Valery Zaluzhny has said in an interview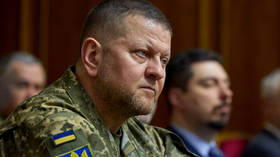 The commander-in-chief of Ukraine's armed forces has vented his frustration over recurring remarks by international commentators and officials that the country's counterattacks are proceeding too slowly.
In an interview with the Washington Post published on Friday, General Valery Zaluzhny stressed that Kiev's ongoing push – which Moscow claims has failed to gain any ground – is not a spectacle for the entire world to enjoy.
"It's not a show the whole world is watching and betting on or anything. Every day, every meter is given by blood," he stressed.
Zaluzhny, who was earlier reported to have been seriously injured in a Russian missile strike, also said that it "pisses [him] off" when he hears that Ukraine's offensive is bogged down.
The Ukrainian general also reiterated that without adequate supplies, Kiev would not be able to implement its plans. "But they are being carried out. Yes, maybe not as fast as the participants in the show, the observers, would like, but that is their problem," he added.
Zaluzhny went on to complain that Ukraine still needs more weapons from its Western backers, saying that his troops have often been outgunned by their opponent due to limited resources. He also voiced frustration that Ukraine has to storm Russian lines without air support, with deliveries of advanced F-16 fighter jets still at least several months away.
Ukraine kicked off its much-anticipated counteroffensive in the early days of June, attempting to penetrate Russian defenses along several sections of the front. It has so far failed to gain any ground, according to Moscow. Russian President Vladimir Putin has said that Ukrainian losses have exceeded Moscow's by a factor of ten, estimating that Kiev has lost 259 tanks and 780 armored vehicles since the start of the campaign.
At the same time, Ukrainian Defense Minister Alexey Reznikov has described the attacks as a "preparatory operation" while President Vladimir Zelensky has admitted that the offensive is developing "slower than desired" in the face of "tough resistance" from Russian troops.
You can share this story on social media: