Ex-emergency chief sentenced over mall fire that killed dozens
Alexander Mamontov has been found guilty of negligence over a 2018 Russian shopping mall fire, which killed 60 people, including children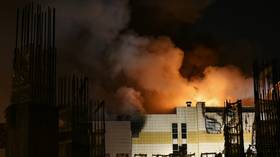 A court in the Russian city of Kemerovo has handed down prison sentences and fines to two high-ranking regional officials who were deemed responsible for a deadly shopping mall fire in 2018.
In a verdict announced on Tuesday, Alexander Mamontov, former head of the Emergencies Ministry in Kuzbass, the part of Siberia that includes Kemerovo Region, was found guilty of negligence resulting in the deaths of two or more persons, as well as embezzlement on a large scale.
The Central District Court of Kemerovo sentenced him 10 years and six months in a penal colony and ordered him to pay a 900,000 ruble ($10,500) fine.
The region's former chief fire inspector, Grigory Terentiev, was also found guilty of fraud, negligence and embezzlement and sentenced to eight years and six months in prison, with a fine of 120,000 rubles ($1,500).
According to investigators, Mamontov and Terentiev both knew about the numerous fire safety violations at the Zimnyaya Vishnya (Winter Cherry) shopping mall, such as locked emergency exits, non-functioning fire extinguishing systems, and a deactivated fire alarm. Nevertheless, the two officials failed to carry out any inspections, which ultimately led to the tragedy.
Investigators also believe that between 2015 and 2018 Mamontov stole over 1.8 million rubles ($21,180) from the Main Directorate of the Emergencies Ministry by writing it off as a salary for three fictitious workers. Terentiev, meanwhile, has been accused of embezzling over 48 thousand rubles ($560) by forging documents in order to receive a monetary allowance, which he allegedly spent on a vacation.
The fire at the Winter Cherry shopping center in Kemerovo occurred on March 25, 2018, killing 60 people, including 37 children. An additional 450 people were injured. The blaze is believed to have been caused by an electrical short circuit on the upper floor of the mall, which hosted a cinema and children's play areas.
A total of 15 people have been sentenced since the tragedy, including the former head of the Kemerovo Region State Construction Supervision Inspectorate, Tanzilya Komkova, with 18 years in prison, her son Eduard Komkov, with 10 years in prison, the general director of the construction company that participated in the reconstruction of the mall, with 15 years in prison, and the former general director and co-owner of Winter Cherry, Vyacheslav Vishnevsky, who was sentenced to eight years behind bars.
You can share this story on social media: