Russia intercepts UK spy plane (VIDEO)
Two Su-27 fighters chased off a RAF surveillance flight over the Black Sea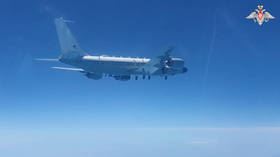 Two British fighter jets and a RC-135 spy plane approached the Russian border on Monday somewhere over the Black Sea, but turned around when approached by two Su-27 interceptors, the Russian Defense Ministry has said.
Russian air defenses "registered three targets" approaching the country's airspace and dispatched a pair of fighter jets that were on duty to identify them and prevent any territorial violations, the ministry said in a statement.
"The crews of Russian fighters identified the air targets as an RC-135 surveillance, intelligence and electronic warfare aircraft and two RAF Typhoon multirole fighters," according to the ministry. "When Russian fighters approached, the foreign military aircraft made a U-turn and headed away from the border."
Both Russian fighters returned to base safely, and violations of the Russian border were "not allowed." The intercept flight was carried out "in strict accordance with international rules," over neutral waters and without a dangerous approach to foreign aircraft, the ministry noted.
Monday's incident is the most serious confrontation between the Russian military and a NATO surveillance flight over the Black Sea since March, when an American MQ-9 drone went down southwest of Sevastopol. The US claimed one Russian Su-27 interceptor clipped the drone's tail and caused it to crash in international waters. Moscow, however, said neither fighter had been damaged. Video released by Washington showed the Russian planes spraying jet fuel onto the intruding UAV before it lost contact with its operators.
The US paused drone flights over the Black Sea in the aftermath, but resumed them shortly thereafter. Russia has noted that Ukrainian drone and missile attacks often coincide with NATO surveillance flights.
Two years ago this week, the Royal Navy destroyer HMS Defender sailed into Russian territorial waters off Crimea, but turned away when it was fired upon by the Russian coast guard. The UK has been one of the most vocal champions of Ukraine in the current conflict, with then-PM Boris Johnson playing a key role in scuttling the March 2022 peace talks, according to Ukrainian media.

You can share this story on social media: