'No excuse' for Wagner mutiny – Chechen leader
Ramzan Kadyrov has denounced Evgeny Prigozhin as a traitor, while vowing to do his best to restore order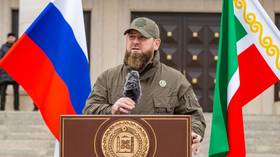 The insurrection by Wagner chief Evgeny Prigozhin is a "hideous betrayal" and should be quelled in order to protect Russian unity amid the conflict in Ukraine, the head of the Chechen Republic, Ramzan Kadyrov, has said.
In a post on Telegram on Saturday, the Chechen leader offered a scathing rebuke of the head of the private military company, denouncing his actions as "a knife in the back" and "a real military mutiny."
Kadyrov stated that an armed conflict is not the time for personal grudges, saying "the rear should always be safe and secure." "Just imagine what the guys in the trenches feel now, with their face to the enemy and with their back to a treacherous gamble."
The Chechen leader added that Wagner's actions could only result in "bloody consequences."
Kadyrov also expressed his full support for Russian President Vladimir Putin, who hours earlier called Prigozhin's insurrection "a stab in the back" and called for national unity.
As Russia's supreme commander, Putin sees the entire landscape of the conflict with Kiev, and was absolutely right to call the turmoil "a military mutiny," Kadyrov said. "There is no excuse for such actions."
The Chechen leader went on to address Russian service members, urging them "not to fall into provocative acts," noting that the insurrection is already being exploited by Moscow's foreign adversaries.
According to Kadyrov, Chechen members of the Defense Ministry and the National Guard have already headed out to the regions where tensions are high. "The insurrection must be quelled, and if harsh measures are required, we are ready for them!" he said.
On Friday, Prigozhin accused the Russian Defense Ministry of launching a missile strike on a Wagner camp, claiming it resulted in multiple casualties. The ministry dismissed the accusation. A criminal probe into the Wagner chief was launched over the alleged plot to foment a mutiny.
You can share this story on social media: