Wagner PMC 'armed coup' attempt in Russia: as it happened
The businessman behind the private military company has been accused of "rebellion" against Moscow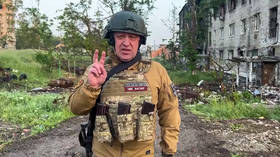 The Wagner private military company led by Evgeny Prigozhin launched an insurrection in Russia that began on Friday evening.
The armed contractors managed to seize an army headquarters in the southern Russian city of Rostov-on-Don, with some forces marching on Moscow.
However, on Saturday's night Wagner chief agreed to stop the advance towards the Russian capital and return his troops to their bases in exchange for "security guarantees" as part of a deal with Moscow, brokered by Belarusian President Alexander Lukashenko.
This live feed has ended
25 June 2023

10:11 GMT

Wagner troops have withdrawn from Russia's Lipetsk Region, local authorities have said.

09:15 GMT

Chechen special-ops force Akhmat, which has been sent to Rostov Region to handle the Wagner insurrection, is returning to the area of the special military operation to again face Ukrainian troops, the unit's commander Apty Alaudinov told TASS news agency.

He noted that those members of the force who had taken part in the Rostov operation would now be involved in the liberation of Maryinka, a Ukrainian-held stronghold near the Russian city of Donetsk.

08:26 GMT

Withdrawing Wagner troops have almost left Russia's Voronezh Region, with no reports of any incidents, local governor Alexander Gusev has said. He added that once the situation is completely resolved, the authorities would lift all temporary restrictions.

07:59 GMT

The Wagner Group's military vehicles have damaged more than 10,000 square meters of road surface in Rostov-on-Don, with repairs expected to take two days, Alexander Logvinenko, the head of the local administration, said on Telegram.

07:05 GMT

US intelligence strongly suspected that Prigozhin was planning to challenge the Russian government at least several days before the Wagner chief started his insurrection, according to the New York Times. However, the paper's sources claimed that US officials generally had "little interest" in helping Russia and feared they could be accused of fomenting a coup if they spoke up.

06:40 GMT

Footage released by RT Russian shows aftermath of the Wagner group's brief takeover of Rostov-on-Don, with streets littered with garbage and marked with tank tracks. The clip also depicts the damaged gates of the local circus, where Wagner fighters had parked a tank the day before.

Another clip posted by RIA Novosti news agency shows that the situation in the city center is calm, with a clean-up underway and downtown traffic facing no obstacles.

04:45 GMT

Rosavtodor clarified in the early hours of Sunday that some restrictions will remain on the M4 road, which connects Moscow to southern cities.

24 June 2023

22:34 GMT

Russia's federal road agency, Rosavtodor, told TASS news agency that all restrictions on traveling on roads and highways have been lifted.

The traffic on some roads was suspended on Saturday as the Wagner fighters were moving towards the capital.

22:16 GMT

The regional governor, Vasily Golubev, said that the Wagner convoy has left Rostov-on-Don and is now heading back to the company's field camps.

21:46 GMT

The Kremlin has revealed the details of the agreement with Wagner PMC. According to spokesman Dmitry Peskov, the criminal case against Prigozhin will be dropped and he will leave Russia for Belarus. Wagner troops will not be prosecuted, and those who did not take part in the insurrection will be permitted to sign on with the Russian Defense Ministry.