Let NATO fight, Russia is prepared – Lavrov
The Western bloc has committed to fighting Russia in Ukraine, the foreign minister said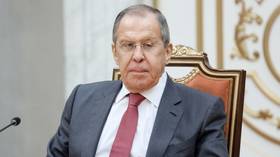 Russia is prepared for NATO to continue to fight in Ukraine, Russian Foreign Minister Sergey Lavrov said on Tuesday. Several days earlier, NATO Secretary General Jens Stoltenberg rejected any moves to "freeze" the conflict, despite mounting Ukrainian losses.
In an interview with Germany's Welt am Sonntag published on Sunday, Stoltenberg declared that "peace cannot mean freezing the conflict and accepting a deal that is dictated by Russia." Stoltenberg added that "only Ukraine can define the conditions that are acceptable," an explicit endorsement of Kiev's vow to drive Russian forces back to pre-conflict borders and seize the Russian territory of Crimea.
"If NATO, through the mouth of Stoltenberg, once again declares that they are against freezing, as they say, the conflict in Ukraine, then they want to fight," Lavrov told a press conference. "Well, let them fight, we are ready for this, we have long understood the goals of NATO in the situation around Ukraine, which have been formed for many years."
Officials in Moscow have long accused the US and its NATO allies of arming Ukraine and using the country to instigate conflict with Russia. Russian President Vladimr Putin has described the conflict as pitting his forces against "the entire Western military machine," and Lavrov echoed this sentiment on Tuesday, stating that the West's continued arms shipments to Kiev show that the West is "a direct participant in the hybrid war declared against Russia, and indeed the hot war."
While Lavrov claimed that some Western leaders are beginning to "sober up" about the nature of the conflict, Kiev has demanded that the weapons keep flowing. "Nothing will be enough, however much they send, because if there is no victory, that means it was not enough," Ukrainian Foreign Minister Dmitry Kuleba said in an interview on Monday.
With Ukraine's ongoing counteroffensive faltering against a "well-prepared" Russian defense, Stoltenberg told reporters on Monday that NATO states would soon send equipment to help Ukrainian troops clear Russian minefields. He did not say, however, what kind of equipment would be sent, or which members would provide it.
Last month, Kremlin spokesperson Dmitry Peskov told the TASS news agency that Moscow was "in solidarity" with the West about the fact that the conflict cannot be "frozen." He said the only option that Moscow is currently considering is "completing the special military operation" or demilitarizing Ukraine and securing its neutrality by force.
You can share this story on social media: