Russia offers asylum to Ukrainian diplomats
Kiev is conducting a "purge" of anyone it perceives as disloyal, Moscow's foreign intelligence agency has claimed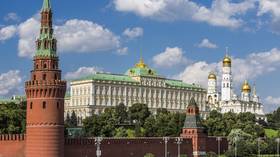 The Ukrainian government is increasingly scrutinizing officials stationed abroad for potential disloyalty, the Russian Foreign Intelligence Service (SVR) has claimed. The head of the agency, Sergey Naryshkin, urged targets of the "purge" to flee to Russia.
The alleged campaign by Kiev stems from the "degradation of the domestic political and social economic situation in Ukraine," a message released by the SVR to the Russian media on Tuesday said.
Ukrainian government employees, including those serving in the diplomatic corps, the military and special services, often try to avoid returning to their homeland from working trips abroad, Naryshkin claimed.
"If you feel responsible for the fate of your nation, for providing peace and stability in Europe, and feel pressured by the criminal Kiev regime, which leads Ukraine to a national catastrophe, come to Moscow, where the safety of yourself and of your loved ones will be guaranteed," the statement read.
The government of Ukrainian President Vladimir Zelensky has been increasingly tough on any critics of its policies. The process began before Russia launched its military operation in Ukraine, with Kiev banning opposition parties and cracking down on media outlets that it branded "pro-Russian."
Among the latest legislative initiatives by the president's faction in the parliament is a draft law that seeks to criminalize any publication online of "destructive information." If adopted, such actions could be punished by to seven years in prison and the seizure of the offender's property. Sponsors of the bill, which was introduced in April, specifically cited the operators of "bot farms" critical of Zelensky as the intended targets.
You can share this story on social media: