Israel speaks out on Ukraine lionizing Nazi collaborators
Kiev treats as heroes people who wanted Ukraine to have no Jews, Poles and many others, ambassador has pointed out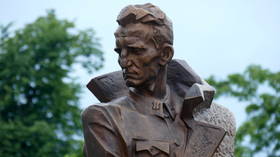 Israel disagrees with Kiev's honoring of WWII-era perpetrators of the Holocaust as national heroes, but the dispute should not pose a threat to Israeli support of the Ukrainian government, the country's envoy there, Ambassador Michael Brodsky, has said.
The senior diplomat addressed the issue on Saturday in an interview with Iton TV, an Israeli Russian-language online outlet. Brodsky said in Israel the perception of historic figures, including Stepan Bandera, Roman Shukhevich or Andrey Melnik, was very different than that in Ukraine.
"Those people supported the ideology of Nazism. They wanted to see Ukraine without Jews as part of their struggle for independence, as well as without Poles, communists and probably many others," he mused.
As it fights Russia, Ukraine may yearn for national heroes as its society seeks a national identity, the ambassador reasoned. Israel disagrees that those Holocaust perpetrators deserve the treatment they're accorded, but there is not much it can do about it, he added.
"There are Bandera streets in different cities of Ukraine, as they are in other nations, for example, in the US," Brodsky pointed out.
The three individuals named by the Israeli official were senior figures in the Organization of Ukrainian Nationalists (OUN). The political and militant movement allied itself with Nazi Germany in the hope of riding its military invasion of the USSR to create a monoethnic, independent Ukraine. Berlin did not agree with the plan.
OUN fighters were involved in mass killings and other atrocities. Shukhevich in particular served as an officer in Nachtigall Battalion, a German military unit that had ethnic Ukrainians as its footsoldiers and that played a key role in the massacre of Jews in the city of Lviv in 1941.
"I believe this process cannot realistically be stopped," Brodsky said of the lionization of Ukrainian Nazi collaborators. "And I don't think we should condition our support of Ukraine, our aid to Ukraine on Ukraine's stopping renaming its streets and calling [the OUN figures] heroes."
You can share this story on social media: