Video purports to show Russian 'kamikaze tank' attack
A captured Ukrainian armored vehicle was allegedly converted into a powerful self-propelled bomb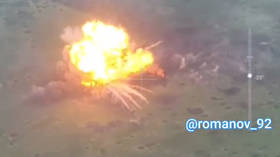 A video circulating online purportedly shows Russian troops deploying a captured Ukrainian tank after converting it into a powerful Vehicle-Borne Improvised Explosive Device (VBIED). Other similar incidents have been reported since the start of the conflict in Ukraine.
The footage of the "kamikaze tank" – which could not be independently verified – was allegedly filmed this month in Donbass, near the frontline settlement of Maryinka, to the west of the Russian city of Donetsk. The tank was said to be loaded with six tons of explosives and sent back towards Ukrainian positions without a driver.
The vehicle, which appears to be a Soviet-made T-54, was reportedly stopped by a land mine and later hit by a rocket-propelled grenade, causing its cargo to detonate.
Just days earlier, the Russian Defense Ministry reported a more successful example of the same tactics. An explosives specialist explained how his squad packed a captured Ukrainian MT-LB tracked tow vehicle with 3.5 tons of explosives and five FAB-100 aviation bombs, before directing it towards a Ukrainian outpost some 300 meters away.
The payload was detonated remotely as a result of which "the enemy suffered significant losses both in equipment and manpower," the commander said, citing intercepted Ukrainian communications.
Another case was reported by military bloggers in February. An MT-LB was allegedly loaded with aviation bombs and specialized explosive charges, which are normally used by UR-77 Meteorit mine-clearing vehicles to rapidly breach paths across minefields, and sent towards Ukrainian positions.
After Ukrainian troops approached the stalled vehicle to investigate, the explosives were triggered remotely, reports claimed. Evidence of the incident included footage purportedly filmed by Ukrainian soldiers before and after the blast.
You can share this story on social media: