Putin orders study of gays
The Russian President has ordered the creation of a special institute focused on examining homosexuality and gender identity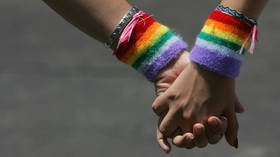 Russia is set to create a new psychiatric institute dedicated to studying, among other things, the behavior of LGBTQ people as well as issues dealing with gender roles and identity, Health Minister Mikhail Murashko revealed during a discussion in the State Duma on Thursday.
Amid a lower parliament discussion of a bill that would ban sex change operations in Russia, Murashko was asked by Deputy Anatoly Wasserman to what extent the Health Ministry was paying attention to studies on psychological and, if need be, psychiatric methods of bringing misconceptions about gender back in line with reality.
The minister responded by pointing out that there are several medical research centers in Russia that are already studying this issue. He added that President Vladimir Putin has also ordered the creation of "an additional institute on the basis of our federal center of psychiatry to study not only these, but also a number of behavioral areas, including social behavior."
According to the Health Ministry, this new institute will be formed on the basis of the Serbsky Center for Psychiatry and Narcology. Murashko noted that LGBTQ research will further be expanded upon and included in the obligatory scientific studies in addition to what is already being done today.
LGBTQ groups in Russia have decried Murashko's statement, suggesting that such research is akin to so-called "conversion therapy," which is a set of physical and psychological methods aimed at treating non-heterosexual orientations and gender identity. Such methods have been condemned by the World Health Organization and the United Nations, which have called them pseudoscientific and likened them to torture.
However, neither Murashko nor any other representatives of the Health Ministry have explicitly mentioned conversion therapy in their statements and it is unclear if lawmakers have any intent to introduce such methods or legislation.
On Wednesday, lawmakers adopted a bill in the first reading that would outlaw almost all sex reassignment surgeries as well as gender changes on official documents in Russia. The legislation, if passed, would only allow limited surgical procedures aimed at remedying "congenital anomalies" in children.
Duma Speaker Vyacheslav Volodin pointed out that the primary goal of the new bill is to protect children and pointed to statistics in the US, where he stated the proportion of transgender people among teenagers is already three times higher than among adults thanks to LGBTQ propaganda.
You can share this story on social media: