Stanley Cup celebration 'erases' Russian player
Ivan Barbashev was conspicuously missing from a collage of the victorious LV Golden Knights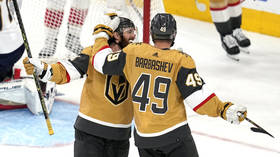 Las Vegas Golden Knights forward Ivan Barbashev was not included in the International Ice Hockey Federation photo collage celebrating the team's victory in the NHL championship on Tuesday evening.
The Golden Knights beat the Florida Panthers 9:3 on Tuesday to clinch a 4-1 series win, thus securing the team its first Stanley Cup in its six-year history. The 27-year-old Russian scored one of the goals in the final game. Barbashev had previously won the Cup in 2019, playing for the St. Louis Blues.
"Congratulations to the Golden Knights on winning the 2023 NHL StanleyCup!" said the IIHF tweet, accompanied by pictures of twelve Vegas players in the jerseys of their national teams from the IIHF World and World Junior championships. Sharp-eyed fans quickly noticed that Barbashev was conspicuously absent, however.
The IIHF did not give a reason for its "erasure" of Barbashev, though some media outlets have speculated that the body did not dare show a Russian national jersey in the collage, given the Western sanctions against Russian athletes over the Ukraine conflict.
NHL Deputy Commissioner Bill Daly likewise did not offer a reason why Barbashev won't be allowed to bring the Stanley Cup to Russia, as he had done in 2019. Daly announced the decision earlier this month, as both the Panthers and the Golden Knights had Russian nationals on their rosters.
He told the Russian outlet Match TV on Wednesday that Barbashev can have the trophy for a day "for personal use," but it has to stay "somewhere in North America, for example."
Barbashev's agent Dan Milstein told Match that he will suggest holding the celebration on a yacht in Miami instead. "Unfortunately, the NHL won't let the Stanley Cup go to Russia, and he had already sold his home in St. Louis," Milstein said.
The Russian had transferred from the Blues to the Golden Knights during the 2022-23 season and scored 34 goals in 45 games.
Though he moved to Canada to play hockey in 2012, Barbashev played on the Russian national junior team in the 2013 IIHF Under-18 championships and the 2014 World Junior championships, before his professional debut in the American Hockey League (AHL) in 2015.
You can share this story on social media: