Defense Ministry reveals number of Russians volunteering for army
Over 13,500 servicemen have signed up for contract service in just 10 days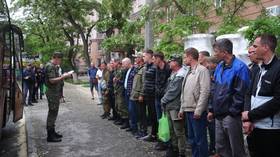 Russia's Defense Ministry has praised the growing "consolidation" among the population, reporting a significant increase in the number of people willing to join the army and volunteer units amid the conflict with Ukraine.
"In just ten days of the current month, 13,644 people have signed up for contract service," Deputy Defense Minister Nikolai Pankov said during a special briefing on Saturday. "This is 2.1 times more than in the same period of May this year, and 3.1 times higher than in April."
Last month, ex-Russian President Dmitry Medvedev, who currently serves as deputy chairman of Russia's National Security Council, claimed that some 117,400 people had volunteered to join the army since January.
Russian officials have repeatedly insisted that with a growing number of volunteers there is no need for another partial mobilization. The call-up conducted in Russia last autumn was described as the largest of its kind since 1945, with more than 300,000 people drafted to create some 280 new military units.
Pankov also noted a steady stream of those willing to join volunteer units, saying it "indicates the high consolidation of Russian society, the desire of citizens to make a personal contribution to achieving a common victory."
Officials are working to guarantee social protections and benefits for the volunteers and their families, regardless of whether they decide to join one of over 40 existing units, or sign a contract with the Defense Ministry directly.
In mid-April, Russian President Vladimir Putin signed into law amended conscription and mobilization rules. The changes allowed for the creation of a unified digital database of citizens subject to military service.
The Defense Ministry is now combining existing databases, including tax, election, medical, police and court records, as well as those drawn from employers and universities. It is expected that the register will help track the summonses sent out to eligible conscripts, not just by mail but also electronically.
You can share this story on social media: