Putin labels Kakhovka dam attack 'a barbaric act'
Speaking to his Turkish counterpart, the Russian president said that Ukraine and its backers are seeking escalation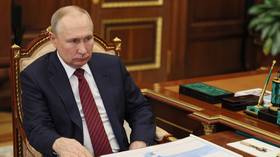 Russian President Vladimir Putin has for the first time commented on the destruction of the Kakhovka dam in Kherson Region. He accused Ukraine and its Western backers of gambling on a path of dangerous escalation.
Speaking to Turkish President Recep Tayyip Erdogan by phone on Wednesday, the Russian head of state cited as an example the "barbaric act of destroying the Kakhovka hydroelectric power plant in Kherson region."
According to Putin, this has led to a "massive ecological and humanitarian catastrophe" downstream.
The president added that Ukraine is "committing war crimes [and] is openly using terrorist methods," including on Russian soil. All of these are being aided and abetted by Western powers, Putin noted.
On Tuesday, Russia's permanent representative to the UN, Vassily Nebenzia, accused the "Kiev regime" of carrying out a "terrorist plot." He added that there were indications that the act of sabotage had been planned well in advance.
According to the diplomat, Kiev took the drastic step of freeing up its forces for the counteroffensive elsewhere, as well as "taking revenge on the Crimeans for their choice in favor of Russia and leaving the population of Crimea without water."
Nebenzia dismissed Ukraine's version of events, according to which it was Russian forces that blew up the dam, as a "well-coordinated disinformation campaign."
Also on Tuesday, Kremlin spokesman Dmitry Peskov argued that the dam had been destroyed as a result of a "deliberate sabotage by the Ukrainian side."
The official claimed that the leadership in Kiev had targeted the power plant as reprisal for what he described as botched attempts at a counteroffensive.
The Kakhovka dam was partially ruptured on Tuesday morning, causing flooding in multiple towns and villages along the Dnieper River.
You can share this story on social media: