Self-driving taxis appear on Moscow streets (VIDEO)
Russian tech giant Yandex has announced the launch of a pilot service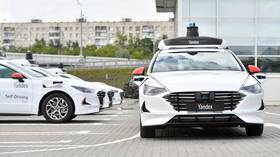 Russian tech giant Yandex has launched a pilot unmanned taxi service which will operate in one of Moscow's largest districts. Self-driving cars are set to be integrated into the platform's regular ride-hailing app.
Initially, the vehicles will drive passengers between 40 predetermined points in the southwestern Yasenevo district of the Russian capital, the company said on Wednesday. The trips will not be solo, however, as national law currently requires a human to supervise an algorithm-piloted car at all times.
Potential customers were invited to opt in for the test through the Yandex website. They will then get the option to call a robotaxi via their phone.
Yandex said the pilot scheme builds on the experience it accumulated while running a self-driving taxi service in Innopolis, a campus town in Russia's Republic of Tatarstan. Residents have taken over 60,000 rides since 2018 in the settlement, which was built as an innovation hub.
The firm has been developing self-driving technology since 2016 and created a dedicated subsidiary for the purpose in 2020. Yandex is also testing a service of small land courier robots powered by the same software.
You can share this story on social media: