Crimean football clubs finally set to join Russian league
Two teams have been cleared to participate in national tournaments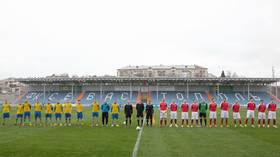 Yalta's Rubin football club has become the latest Crimean team to join Russia's Second League, the football association's press service confirmed on Tuesday. The league cleared Sevastopol to compete last week.
The certification commission of the Football National League (FNL) has "decided to grant Rubin an FNL certificate," the association said in a statement. The FNL is part of the Russian Football Union (RFU) and is responsible for the second and third tiers in the national football league system.
The decision opens the door for other Crimean clubs to join Russian football championships. The FNL has already sent invitations to Tavria, from the regional capital of Simferopol, and Okean from Kerch.
Three of the invited clubs finished at the top of the regional championship, while the fourth won the cup tournament organized by the Crimean Football Union.
In recent years, Crimean clubs have been unable to participate in competitions outside of the peninsula.
In 2015, a year after Crimea voted to join Russia in a referendum, European football governing body UEFA created a separate football union for the peninsula, although local clubs were barred from joining Russian championships.
The FNL certification committee cleared the two clubs to join the Second League's B division, which includes more than 60 clubs from various Russian regions. The league is the third strongest in Russia, after the Russian Premier League and the First League. It also has an A division, limited to the 20 best teams.
Russian teams are currently banned from international competitions by FIFA and UEFA, after the organizations followed an International Olympic Committee (IOC) recommendation issued when Moscow launched its military operation in Ukraine in February 2022.
You can share this story on social media: