Ukraine rebuffs Vatican peace attempt
An envoy of Pope Francis visited Kiev in search of ways to end the conflict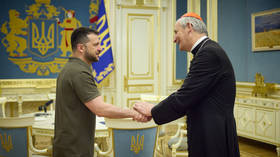 The only end to the conflict that Kiev considers acceptable is the Ukrainian "peace formula," President Vladimir Zelensky told the Holy See envoy Cardinal Matteo Zuppi in a meeting on Tuesday.
"Ukraine welcomes the willingness of other states and partners to find ways to achieve peace, but since the war is on our territory, the formula for achieving peace can only be Ukrainian," Zelensky said after meeting the papal emissary in Kiev.
Zelensky added that he discussed the situation in Ukraine and the humanitarian cooperation with the Vatican "within the framework of the Ukrainian peace formula," and urged the Holy See to join the efforts to pressure Russia.
Zuppi arrived in Ukraine on Monday, in what the Vatican called a "search for paths to a just and lasting peace." In addition to Zelensky, he met with other Ukrainian officials, including parliamentary commissioner for human rights Dmitry Lubinets.
"The results of these talks, like those with religious representatives as well as the direct experience of the atrocious suffering of the Ukrainian people as a result of the ongoing war, will be brought to the Holy Father's attention," the press office of the Holy See said in a statement on Tuesday evening.
This is the second time in two months that Zelensky has declined an offer by Pope Francis to mediate in the conflict with Russia. After his meeting with the pontiff at the Vatican last month, the Ukrainian president told Italian media outlets that Kiev was only interested in its own vision of peace.
"It was an honor for me to meet His Holiness, but he knows my position: the war is in Ukraine and the [peace] plan must be Ukrainian," Zelensky told talk show host Bruno Vespa.
The "peace formula" in question is a list of Zelensky's demands first revealed in November 2022, ranging from Russia's withdrawal from all territories Ukraine claims – including Crimea and the Donbass – payment of reparations, war crimes trials for the Russian leadership, and Ukraine's membership in NATO.
Moscow has rejected Zelensky's "peace platform" as delusional. Russia understands that any peace talks will not be held "with Zelensky, who is a puppet in the hands of the West, but directly with his masters," Russian Foreign Minister Sergey Lavrov told reporters last month.
You can share this story on social media: