European Council president accuses Russia of war crime
Charles Michel has blamed Moscow for the attack on the Kakhovka hydroelectric dam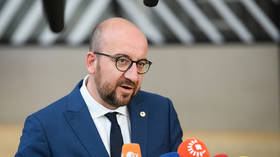 The attack on the Kakhovka hydroelectric dam in Russia's Kherson Region qualifies as a war crime, European Council President Charles Michel has claimed. The official further insisted that Russia was responsible for the incident.
"Shocked by the unprecedented attack of the Nova Kakhovka dam," Michel wrote on Twitter on Tuesday. "The destruction of civilian infrastructure clearly qualifies as a war crime – we will hold Russia and its proxies accountable."
Michel said he would raise the issue at the June meeting of the European Council and would propose more assistance to the flooded areas.
The power plant, which is located on the Dnieper River upstream from the city of Kherson, suffered significant damage on Tuesday morning. Novaya Kakhovka Mayor Vladimir Leontyev claimed that the upper part of the dam and its floodgates had been destroyed as a result of a series of overnight strikes by Ukrainian forces.
The damage has led to the release of an uncontrolled flow of water which now threatens to flood up to 80 settlements in the region, Leontyev said, adding that several areas are without electricity. He also warned of problems with water supplies to the Crimean Peninsula.
The mayor described the extent of the destruction at the power plant as "very serious" and cautioned that it could be beyond repair. Efforts to restore it may effectively involve rebuilding it from scratch, he added.
Leontyev, who branded the incident a major "terrorist act," also noted that the facility had repeatedly come under Ukrainian shelling throughout the past year. Kiev's forces have allegedly targeted the dam's turbines, only one of which was working at the time of Tuesday's attack, according to the mayor.
Moscow has frequently accused Kiev of attacking the dam and has warned on numerous occasions that a breach could result in the deaths of thousands of civilians. Ukraine, however, has claimed that Russia was planning to blow up the facility in a false-flag operation aimed at framing Kiev.
Kherson Region was officially declared part of Russia in early October, together with Zaporozhye Region and the People's Republics of Donetsk and Lugansk, after the local populations overwhelmingly supported the move in referendums. Kiev and its Western backers have labeled the votes a "sham," and Ukraine has vowed to recapture the territories using any means necessary.
You can share this story on social media: