NATO-supplied tanks destroyed in failed Ukrainian offensive – Russian MOD
Kiev lost eight German Leopards and three French AMX-10s, the military has claimed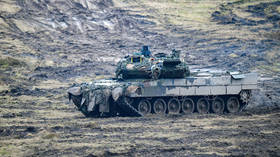 Russian forces have repelled a renewed large-scale attack by Ukrainian troops in several parts of Donetsk and Zaporozhye Regions, the Defense Ministry in Moscow said in the early hours of Tuesday, claiming that Kiev's armed formations and military units suffered "significant losses."
"Having suffered heavy losses the day before, the Kiev regime reorganized the remnants of the 23rd and 31st mechanized brigades into separate combined units, which continued the offensive operations close to Novodarovka and Levadnoye," said the ministry's spokesman, Lieutenant General Igor Konashenkov.
The renewed offensive mainly focused on the village of Vremevka in Donetsk Region, but was stopped by missile, artillery and heavy rocket-propelled flamethrower strikes, according to Konashenkov.
"The Ukrainian Armed Forces' total losses in south Donetsk direction were over 1,500 servicemen, 28 tanks, including eight German-made Leopard tanks and three French-manufactured AMX-10 wheeled tanks, as well as 109 other armored fighting vehicles," the Russian military spokesman said.
It was unclear if the tally included the losses from Sunday's botched attack, which was described as "large-scale" yet "unsuccessful" by the Russian military. In that attempt alone, Kiev lost more than 250 service members, 16 tanks, three infantry vehicles, and 21 armored vehicles, according to the ministry.
Some videos circulated by military bloggers on Telegram showed what appeared to be several abandoned French AMX-10 light tanks, but did not include visual confirmation of the German-made Leopards reportedly lost in battle.
The Russian Defense Ministry has yet to release footage of the latest strikes on Ukrainian military vehicles. On Monday, it published a video of Ukrainian heavy equipment, supplied by Western nations, being destroyed by Russian strikes the day before.
Ukrainian Deputy Defense Minister Anna Maliar confirmed that Kiev's forces were moving to "offensive actions" in some areas, but provided no comment on the failed attacks and claimed that Moscow's talk about Kiev's "counteroffensive" blunders was an attempt to "divert attention" from its own alleged failures.
You can share this story on social media: