Russian forces shoot down Ukrainian Su-25 strike fighter – media
The aircraft was providing air cover for a failed landing operation, RIA Novosti has reported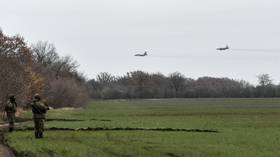 Russian forces have stopped Kiev's troops from crossing the Dnieper River in the Kherson region and shot down one of the two Su-25 strike fighters providing air cover for the Ukrainian landing operation, RIA Novosti reported on Monday, citing a source "familiar with the situation."
"Another attempted … landing operation of the Ukrainian Armed Forces has failed," the source told the news agency. According to the report Kiev's troops sought to cross the river near the village of Babino, some 124 kilometers from the strategic town of Novaya Kakhovka, site of a dam on the Dnieper that also served as a bridge before being seriously damaged by Ukrainian strikes.
During the clashes near Babino, the Russian troops managed to shoot down a Su-25 strike fighter, the source claimed, adding that the aircraft fell in territory controlled by Ukrainian forces. The second strike fighter then flew away, leaving the landing party without air cover, the source said.
Kiev has not commented on the reports. The Ukrainian Defense Ministry mentioned neither the failed landing operation nor the presumably downed aircraft in its Monday evening public statement. Instead, it said that the "situation … on the Kherson front has not seen any particular changes."
The Russian Defense Ministry did not comment on the situation. The news came as Russian troops successfully repelled a major Ukrainian offensive in the southern part of the Donetsk People's Republic. Kiev's troops, which deployed six mechanized and two tank battalions, lost up to 300 service members, 16 tanks, 26 armored and 14 ordinary vehicles in the botched operation, according to a ministry statement.
Later on Monday, the Russian ministry also published a video of the Ukrainian heavy equipment, supplied by Western nations, being destroyed by Russian strikes.
You can share this story on social media: