Kremlin responds to US nuclear deal offer
Washington's readiness to talk arms control is a positive signal, but it so far lacks specifics, Dmitry Peskov has said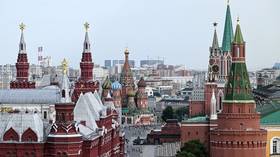 Russia welcomes a US suggestion to hold talks over nuclear weapons, but would like to see concrete proposals from Washington, Kremlin Press Secretary Dmitry Peskov said on Monday.
Speaking to reporters, Peskov was asked to comment on remarks by US National Security Advisor Jake Sullivan, who said last week that the US was ready "to engage in bilateral arms control discussions with Russia and with China, without preconditions."
He also said that Washington was willing to abide by the core limits set by the 2010 New START treaty, which puts caps on the number of strategic warheads deployed by the two countries, "as long as Russia does [the same]."
Peskov described Sullivan's statement as "an important and positive" signal. "Of course, we expect it to be supported by real steps via diplomatic channels," he noted.
Reiterating that Moscow remains open to negotiations on arms control, Peskov added that "first, we should understand how this proposal is formulated."
However, the spokesman went on to say that when it comes to such an important topic, "it is very difficult to rely on statements in the media, especially when we are experiencing an acute deficit of mutual trust in bilateral relations."
The arms control architecture between Russia and the US has been under considerable strain in recent years. Last August, Russia suspended the inspection regime within New START, the last nuclear agreement between the two countries, claiming that American sanctions over the Ukraine conflict hinder Russian officials from implementing the verification mechanism.
In February, Russian President Vladimir Putin announced that Moscow would suspend its participation in the treaty, citing the refusal of Western powers to permit inspections of their nuclear facilities. He confirmed, though, that Moscow would continue to abide by the deal's limits on deployed warheads.
He also said that before discussing the agreement's future, Russia wanted to address not only the American arsenal, but also nuclear weapons fielded by other NATO members, including the UK and France.
You can share this story on social media: