Crimea to auction off property of Ukraine's oligarch ex-president
Officials are finalizing the legal framework for the sale, the regional governor has said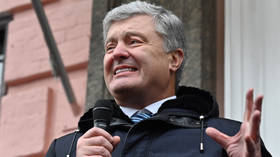 Property in Crimea, Russia owned by former Ukrainian President Pyotr Poroshenko and former Prime Minister Arseny Yatsenyuk will be sold at an auction, the region's governor, Sergey Aksyonov, said on Monday.
Aksyonov stated that the authorities were devising a legal framework for the measure and stressed that the assets of owners with "proven destructive activities" against the Russian state would be targeted.
"As for the auction, there will be many interesting lots … including resorts and manufacturing companies," he told Russia 24. He did not go into details, but added that properties "owned by Yatsenyuk, Poroshenko, and others" would be sold.
The governor confirmed that the penthouse belonging to current Ukrainian President Vladimir Zelensky would be auctioned off as well. He added that officials chose to put the assets up for auction "not out of spite," but because it was "only in the interests of [Russia] and Crimea, and their security."

Poroshenko, who was elected president on the heels of the 2014 Western-backed coup in Kiev and had served until 2019, is one of the wealthiest people in Ukraine. In 2015 – a year after Crimea voted to leave Ukraine and join Russia – the local authorities nationalized the Sevastopol Shipyard, which was a part of Poroshenko's ship-building enterprise.
According to the Crimean authorities, Yatsenyuk, who worked in Poroshenko's cabinet, owned a cinema in the seaside resort city of Yalta, while Zelensky's family owned a luxury apartment in its suburbs. Both properties were nationalized last year.
In 2022, Ukraine's parliament, the Verkhovna Rada, passed a law that allowed the nationalization of Russian-owned property. The MPs cited Russia's military operation in Ukraine as the rationale for the law. Moscow has condemned the move, arguing that it is tantamount to "theft."
You can share this story on social media: