Ukrainian airfields hit by Russian strikes – Moscow
A "precision attack" was conducted overnight, the Defense Ministry has said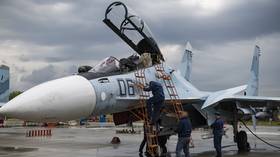 Russian forces launched multiple high-accuracy strikes on Ukrainian military airfields overnight from Sunday to Monday, the Defense Ministry in Moscow has said.
The attacks hit Ukrainian command posts, radar stations, and aircraft, as well as weapons and ammunition storage depots, the ministry claimed. The exact targets or the extent of the damage was not disclosed.
Ukrainian President Vladimir Zelensky said on Sunday evening that Russia had launched one of its largest drone attacks to date. Ukrainian media reported explosions across the country, although Kiev claimed that almost all of the drones had been shot down.
Officials in Ukraine's western Khmelnitsky Region said on Monday that a military target had been hit in a Russian attack. The authorities described the site as a "facility" rather than an airfield, but said at least five aircraft had been "disabled," adding that a runaway required repairs as a result of the strike. They also said other "objects" in the area had been hit.
The Russian Defense Ministry confirmed that several major Ukrainian ammunition depots and military equipment storage sites had been struck close to the frontlines in the Lugansk and Donetsk People's Republics, as well as Kherson Region.
Over the past 24 hours, Russian forces have also intercepted three 'Storm Shadow' cruise missiles supplied to Kiev by the UK and 13 HIMARS projectiles, the ministry said.
Russia increased its missile and drone attacks on Ukrainian military and energy infrastructure after the bombing of the Crimean Bridge in October 2022. The latest series of strikes followed a Ukrainian cross-border raid into Belgorod Region earlier this month, which resulted in at least one civilian death and left several people injured.
You can share this story on social media: