F-16s for Ukraine won't be a game changer – Bloomberg 
Western fighters will run high risks when facing off against Russian defenses, veteran pilots believe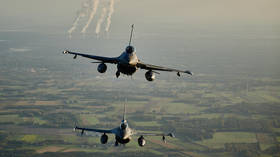 While potential Western deliveries of US-designed F-16 fighter jets to Ukraine will help enhance Kiev's combat capabilities, they won't be a "game changer" in its conflict with Russia, Bloomberg reported on Sunday, citing several pilots who have flown the aircraft.
According to the agency, the F-16s that could be sent to Ukraine "will still have inferior radar and shorter range missiles" than many of Russia's modern aircraft and air defense systems. This means that those planes will either be deployed defensively, or used as part of high-risk operations, the report says.
Brynn Tannehill, who designed simulators for the planes, told the outlet that for Ukrainian pilots switching from Soviet-era aircraft over to F-16s would be as if "they pushed the easy button." However, "you can't overcome the laws of physics," she added.
According to John Venable, a former F-16 pilot with the US Air Force, should Ukrainians fly close to the front line, they would receive a signal that they had been detected by Russian radars long before they would be in position to fire on their targets.
He added that Ukrainian pilots may use hilly terrain to sidestep detection – and thus destruction – while approaching their targets, but they would have to quickly climb at a steep angle, shoot, and then duck for cover again. However, such tactics mean that the F-16s "aren't going to be hitting anything," Venable said.
Moreover, according to Dan Hampton, another veteran combat pilot, it would also be impractical to use F-16s to shoot down Russian cruise missiles, as there would only be a small window after the projectile is fired and detected but before it reaches its target. Deployment of F-16s in this capacity would require them to stay in the air for hours while waiting for the right moment, he explained.
The pilots' assessment echoes a statement by US Air Force chief Frank Kendall, who said earlier this month that F-16 deliveries would not mark a turning point in the Ukraine conflict, given that air power has not played a crucial role in the hostilities.
However, Yury Ignat, the spokesman for the Ukrainian Air Force Command, has insisted that Kiev "will win this war" if it were to receive modern Western jets.
Commenting on potential F-16s deliveries to Ukraine, Russian Foreign Minister Sergey Lavrov warned that such a move would lead to "an unacceptable escalation" of the conflict.
You can share this story on social media: