Kiev hints at Crimean Bridge attack role
Ukraine took "certain measures" against the strategic link, the country's security chief has said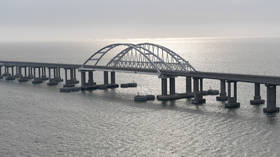 The head of Ukraine's Security Service (SBU) acknowledged on Friday that Kiev targeted the strategic Crimean Bridge, which was damaged in an explosion last year, explaining that the country had to disrupt Russian logistics.
Speaking to Ukrainian media, Vasily Malyuk was asked to comment on a deadly blast that damaged the bridge in October 2022, an incident that Moscow described as a "terrorist act" orchestrated by Ukrainian special services using a truck bomb.
In what appeared to be a rare public acknowledgement of Kiev's role in the incident, Malyuk said that "in accordance with international law and the customs and traditions of warfare, given that this was a logistics route that had to be cut off, certain measures were taken."
However, the Ukrainian official declined to provide further details.
The explosion on the Crimean Bridge claimed the lives of several people while causing a partial collapse of the road on the vehicle section, as well as a blaze on a parallel railway where several fuel tanks caught fire, with the damage resulting in a decreased traffic capacity.
After repairing the damage, Russian authorities opened all lanes for cars in February, and in May train traffic was fully restored. However, citing security concerns, Russian officials said that it was too soon to allow any trucks to pass over the bridge.
Russia's Federal Security Service (FSB) claimed the attack was masterminded by the Ukrainian intelligence service and its chief, Kirill Budanov, an accusation he has denied. However, while stopping short of directly claiming responsibility for the attack, various Ukrainian officials cheered the blast. Moreover, shortly after the incident, several US media outlets reported, citing sources, that Kiev was behind the explosion.
In response to the bombing of the bridge, which serves as a strategic link between the Crimean peninsula and mainland Russia, Moscow has significantly ramped up its missile attacks on Ukrainian energy and military infrastructure.
You can share this story on social media: