Ukraine's top general gravely wounded in Russian strike – RIA
Valery Zaluzhny will no longer be able to command Kiev's forces due to head trauma, a source claimed to the agency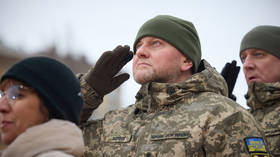 The commander-in-chief of the Ukrainian armed forces, General Valery Zaluzhny, was seriously wounded in a Russian missile strike near the city of Kherson earlier this month, a security source has told RIA Novosti.
Zaluzhny, who has recently disappeared from the public eye, suffered a head injury and numerous shrapnel wounds during the attack in early May, which targeted a Ukrainian command post near the village of Posad-Pokrovskoe, the agency reported on Wednesday.
The general underwent a craniotomy at a military hospital in Kiev after the strike, the source claimed. Doctors expect the 49-year-old to live, although he will not be able to conduct his duties as commander, the source added.
Zaluzhny's recovery is further complicated by an underlying medical condition, said to be diabetes, the agency reported.
The new report has already been denied by Ukrainian National Security and Defense Council chief Aleksey Danilov, who took to Twitter to announce that Zaluzhny, as well as other unspecified members of Kiev's top command, had met on Wednesday with Ukrainian President Vladimir Zelensky to brief him on the current situation.
Speculation about Zaluzhny's whereabouts emerged after he missed a high-profile NATO meeting on May 10.
The chairman of the bloc's military committee, Rob Bauer, said Brussels had been informed that the Ukrainian commander could not attend in person or via video-link due to the "complex operational situation" in the conflict with Moscow.
The general has not been seen in public since then, and footage that emerged online in recent days suggesting he was in good health turned out to have been filmed before his disappearance.
On Saturday, Ukrainian Deputy Defense Minister Anna Malyar claimed Zaluzhny was fine and remained in charge of the armed forces.
"The commander-in-chief is in his place. He's doing his job. We just talked," she wrote on Telegram.
Malyar suggested that rumors of Zaluzhny's possible injury or death were being spread by Russia in an attempt to demoralize Ukrainian forces during the battle for the strategic city of Artyomovsk, also known as Bakhmut.
Moscow announced the "full capture" of Artyomovsk on Saturday, although Kiev has continued to deny the loss of its key stronghold in Donbass.
Zaluzhny has been popular with the Western media, which has portrayed him as a key figure in Ukraine's resistance against Russia. Throughout the conflict, the so-called 'Iron General' has given lengthy interviews to outlets such as The Economist and Time, which listed him among the 100 most influential people in the world in 2022.
You can share this story on social media: