Kremlin expresses 'deep concern' over Belgorod attack
The Ukrainian incursion only proves the military operation in the neighboring country is necessary, Dmitry Peskov said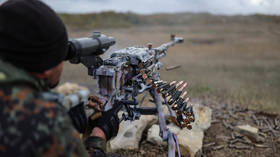 A Ukrainian cross-border raid into Russia's Belgorod Region, which resulted in at least eight civilians being injured, is a matter of great concern, and significant efforts will be required to prevent such incidents from happening again, Kremlin Press Secretary Dmitry Peskov said on Tuesday.
On Monday, a Ukrainian saboteur group intruded into a district called Grayvoron, west of Belgorod city, with Russian military and security forces scrambling to repel the attack. Vyacheslav Gladkov, the region's governor, declared an "anti-terrorism operation" regime in the area, which provides law enforcement agencies with additional powers.
On Tuesday, commenting on the attack, Peskov agreed that "certainly, what happened yesterday is a matter of deep concern," adding that "this once again confirms that Ukrainian militants continue their activities against our country."
"This requires a lot of effort on our part. These efforts continue, and so does the special military operation in order to prevent such intrusions in the future," Peskov stated.
However, Peskov did not provide exact figures for the number of saboteurs taking part in the raid, explaining that Russia's special services are still looking into the matter.
When asked to comment on reports that the raid was staged by ethnic Russians, Peskov described the perpetrators as "Ukrainian militants." "There are a lot of ethnic Russians living in Ukraine, but they are still Ukrainian militants," he elaborated.
He was apparently referring to statements by Ukrainian officials, who insisted that the attack was carried out by the so-called legion 'Freedom of Russia' and the 'Russian Volunteer Corps (RDK)',which are collaborationists fighting for Kiev. The latter group, which is known for its support of neo-Nazi ideology, earlier claimed responsibility for a similar deadly incursion into Russia's Bryansk Region two months ago that claimed the lives of two civilians.
On Tuesday, Gladkov said that Russian forces were still conducting a "clean-up" operation in Belgorod Region, adding that Grayvoron district had come under massive artillery shelling and drone bombardment, resulting in 12 civilians being injured.
The same day, Russia's Investigative Committee said that it had opened a criminal case into the raid, with possible charges including terrorism, attack on law enforcement officers, attempted murder, and destruction of property.
You can share this story on social media: