Ukrainian saboteurs launch raid in Belgorod Region – Moscow
Kiev is seeking to divert attention from the fall of Artyomovsk, Kremlin Press Secretary Dmitry Peskov has said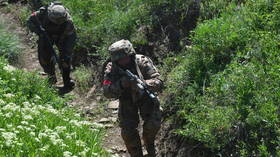 A Ukrainian saboteur group has intruded into Russia's Belgorod Region, with Moscow's military and law enforcement agencies scrambling to repel the attack, Kremlin Press Secretary Dmitry Peskov confirmed on Monday.
The news about the raid was first broken by Vyacheslav Gladkov, the region's governor, who wrote on his Telegram channel that a Ukrainian commando unit had crossed into Grayvoron district, west of Belgorod city. He would not provide any detail on how many Ukrainians were taking part in the raid.
He added that the Russian military, the National Guard, border patrol agents and Federal Security Service (FSB) "are taking all the necessary measures to destroy the enemy."
Peskov said that Russian President Vladimir Putin had been briefed on the matter. "Work is underway to push them out from Russian territory and to destroy this sabotage group. There are enough forces and resources in place," he stated.
The spokesman also claimed that the attack was meant to mitigate political fallout from the fall of the Donbass stronghold of Artyomovsk, known as Bakhmut in Ukraine, which was recently fully captured by Russian forces after months of bitter fighting, according to the Ministry of Defense. Kiev disputes this claim.
Meanwhile, a spokesman for Ukraine's Directorate of Intelligence, Andrey Yusov, confirmed the raid to local media, but insisted that the operation was being conducted exclusively by Russian citizens fighting for Kiev – namely the so-called Legion 'Freedom of Russia' and Russian Volunteer Corps (RDK), known for its support for neo-Nazi ideology.
He claimed that the attack sought to "liberate" some territory from Moscow and protect Ukrainian civilians by creating a "security strip."
Minutes before reporting the attack, Governor Gladkov said that the village of Glotovo, in the same area, had been hit by an artillery strike, injuring two people.
The raid into Belgorod Region follows a similar hit-and-run attack on Russia's Bryansk Region in early March. The responsibility for the operation, which left two Russian civilians dead, and injured a young boy, was claimed by the Russian Volunteer Corps. While officials in Kiev denied they had orchestrated the operation, RDK members themselves stated that Ukrainian authorities had "signed off" on the raid.
You can share this story on social media: