Moscow charges ICC prosecutor and judge over Putin arrest warrant
Russia's main investigating authority claims that the International Criminal Court's ruling is illegal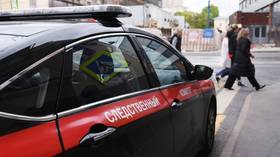 Russia's Investigative Committee has charged in absentia a prosecutor and a judge with the International Criminal Court (ICC) for issuing an arrest warrant for President Vladimir Putin. Both have been placed on the country's wanted list.
In a statement on Sunday, the Committee said that it was carrying out a criminal investigation into potential wrongdoing by ICC prosecutor Khan Karim Asad Ahmad and ICC judges Tomoko Akane, Rosario Salvatore Aitala, and Sergio Gerardo Ugalde Godinez.
According to the body, in late February Khan issued a request for an arrest warrant for Russian President Vladimir Putin and Maria Lvova-Belova, the presidential commissioner for children's rights, which was subsequently approved by the three judges.
At the time, the tribunal, which is not recognized by Moscow, accused Putin and Lvova-Belova of being responsible for "unlawful deportation of population (children)... from occupied areas of Ukraine to Russia."
However, the Committee described the ruling as "illegal," claiming that "there are no grounds for criminal liability" and noting that heads of state are immune to such kind of prosecution under the UN Convention on the Prevention and Punishment of Crimes against Internationally Protected Persons.
As a result, Russian authorities have gathered enough evidence to charge in absentia both Khan and Aitala with making false accusations against persons known to be innocent and attacking a foreign official under international protection in order to complicate international relations, the statement read.
The Committee noted that the two individuals charged had been put on a wanted list, adding that a criminal investigation into other suspects was still ongoing.
Moscow does not recognize the ICC and has dismissed the arrest warrant as null and void. Earlier this month, Kremlin Press Secretary Dmitry Peskov also signaled that Russia was unconcerned by the move as it would be "unthinkable" for any country to enforce such an arrest warrant against a nuclear power.
You can share this story on social media: