Pro-Western president calls for boycott of national airline
Salome Zurabishvili blasted Georgian Airways for taking advantage of Russia lifting its air travel ban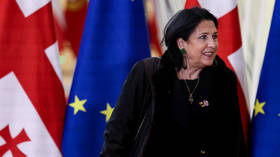 Georgian President Salome Zurabishvili has declared a personal boycott of Georgian Airways over its decision to resume flights to Russia, and urged her fellow citizens to follow suit.
Speaking at a briefing on Saturday, Zurabishvili, who has supported Tbilisi's aim of NATO and EU integration while condemning Russia's military campaign in Ukraine, accused Georgian Airways of being "ready to do anything for money" and "taking advantage of a reality that is unacceptable for a very large part of our population."
"I want to tell you that I am boycotting Georgian Airways and I urge you to join," she said, adding that she did not want to enrich the company.
Responding to Zurabishvili's criticism, Tamaz Gaiashvili, the founder of Georgian Airways, said that until the president "apologizes to the Georgian people," she will not be allowed onboard the airlines' aircraft. He also criticized the president for what he said was a belief that stopping one airline would bring the Russian economy to its knees.
Last week, Russian President Vladimir Putin lifted the air travel ban and visa regime with Georgia, both of which were imposed in 2019 in the wake of anti-Russia protests in Tbilisi. The first flight carried out by a Russian airline landed in the Georgian capital on Friday, sparking a demonstration at the airport which resulted in clashes with police.
Zurabishvili earlier described Russia's decision to cancel the restrictions as "another provocation" and "unacceptable as long as Russia continues its aggression on Ukraine and occupies our territory."
She was apparently referring to Moscow's friendly ties with South Ossetia and Abkhazia, two republics that broke away from Tbilisi in the 1990s and were recognized as independent states by Moscow after the 2008 conflict between Russia and Georgia.
However, numerous high-ranking Georgian officials did not share Zurabishvili's view about the resumption of flights with Russia, including Tbilisi Mayor Kaha Kaladze, who said that he welcomed the decision. "There is nothing wrong with being able to travel without a visa and flying [to other countries]," he said, while also noting that Georgia has refrained from supporting Western sanctions against Russia over the Ukraine conflict.
"We won't take a decision that will harm our country. We won't join the sanctions," Kaladze reiterated.
You can share this story on social media: