British university blocks Russian writer
Satirist Viktor Shenderovich, known for his anti-Kremlin stance, had previously said he saw "clear displays of Ukrainian Nazism"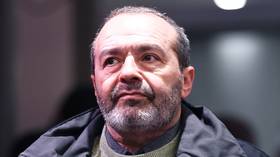 University College London (UCL) abruptly canceled a performance by Russian satirist and author Viktor Shenderovich on Saturday, without stating any reason for the decision. According to the BBC, the public who had arrived found the organizers and the author himself standing "clueless" in front of closed doors leading into the university buildings scheduled to host the event.
Shenderovich later confirmed on Facebook he was "barred from his own performance in London" but still did not explain the reasons behind the incident. He also mockingly thanked "all the idiots" responsible "for such an incredible promotion."
The author eventually moved to nearby Regent's Park together with his would-be audience, where he held an impromptu performance "in the natural setting," Shenderovich himself said in his Facebook statement. The author called the event "one of his best performances" and said that it was attended by "some 300 people." He also published a photo of a sizable crowd gathering around him in the park.
The UCL has not commented on the incident.
Shenderovich is known in Russia as an author, journalist, and anchor. The satirist was also known as a staunch and long-time Kremlin critic. Back in 2010, he, together with other Russian opposition figures, called on Vladimir Putin, who headed the Russian government at that time, to leave his post. In 2014, he opposed Crimea's accession to Russia. In 2021, he left Russia after being designated a "foreign agent" by the authorities. In 2022, he slammed the Russian military campaign in Ukraine.
However, Shenderovich found himself at the center of a scandal in late April, when he referred to the Russian soldiers fighting in Ukraine as "our boys" in an interview with the YouTube 'Living Nail' podcast. "This is still our country and our boys, misguided and unfortunate, even killers sometimes but they are ours," he said, calling it the "zone of responsibility" of Russians.
He also said that even Russian liberals can only be temporary "partners" with Ukrainians "until Putin is toppled." The satirist then said he would like to see Russia preserved, adding that he was by no means sure that Ukrainians want the same. "Many Ukrainians would just like to see… Russia go down in flames, with me and you, all of us… [They] want it to perish." The author then slammed Ukrainians over calling Russians a "nation of slaves" and described such sentiments in Ukraine as "outbursts of Nazism."
His words sparked a wave of indignation in Ukraine and in the Russian opposition scene. On May 11, a group of pro-Ukrainian activists sought to cancel a performance he was scheduled to give in the Lithuanian capital of Vilnius. When Shenderovich came out to talk to the crowd that had gathered outside of the venue where he was about to perform, one of the activists sprayed him with tomato sauce. The author later said that his words had been "taken out of context."
You can share this story on social media: