Russia's international flight connections expanding
Just as air links resumed with Georgia, it was reported that Indonesia plans to begin direct flights to Vladivostok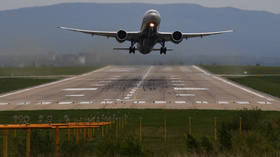 Indonesia will launch direct flights to Vladivostok in Russia's Far East, with transit routes on to other major cities in the country, the Indonesian embassy in Moscow announced on Friday.
"We will open direct air traffic with Jakarta," Berlian Helmi, deputy mission chief at Indonesia's embassy in Russia, told Tass on Friday, referring to the Indonesian capital.
"First, we'll open a flight between Jakarta and Vladivostok, then through Vladivostok to Moscow, [Russia's Republic of] Bashkortostan, Nizhny Novgorod and Tomsk," he said.
All the necessarily agreements with the Russian side have already been reached, the diplomat said. Indonesia is ready to begin flights to Vladivostok as soon as the local airport confirms that it is prepared to accept them, he added.
Vladivostok is one of the largest cities in Russia's Far East and a major port on the Sea of Japan. It is located 45km from the border with China. Jakarta and Vladivostok are separated by some 6,000km, whereas the distance between the Indonesian capital and Moscow is more than 9,000km.
Indonesia is launching the flight because "Russia is now looking to the East, so we are also looking towards Russia," Helmi explained.
Also on Friday, the first Russian plane landed in Georgia's capital Tbilisi after a four-year hiatus. The arrival was met by a small group of anti-Russia protesters at the airport.
On Saturday, meanwhile, the first Georgian Airways plane arrived in Moscow, with its pilot saying on social media that "direct flights are profitable and the right thing to do. The wait is over."
Moscow suspended air traffic in and out of Georgia in the summer of 2019 in response to a series of violent anti-Russian protests in Tbilisi during which demonstrators attempted to storm the parliament building. Earlier in May, however, Russian President Vladimir Putin signed decrees that lifted the flight ban and also the visa regime with Georgia.
Also on the same day, Russian Deputy Prime Minister Dmitry Chernyshenko said that air traffic between Russia and Cuba would resume starting July 1. Russia's flagship carrier Aeroflot said that it initially plans to make two flights a week to the Cuban resort of Varadero. Flights between Russia and Cuba were stopped after the launch of Russia's military operation in Ukraine in February 2022.
You can share this story on social media: