Moscow names German chancellor's 'biggest mistake'
The downplaying of civilian deaths in Donbass by Olaf Scholz is unacceptable, the Foreign Ministry spokeswoman has claimed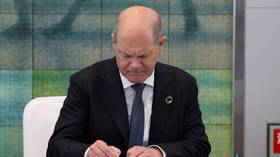 German Chancellor Olaf Scholz will go down in infamy for making light of the suffering of civilians in Donbass at the hands of Ukrainian troops, Russian Foreign Ministry spokeswoman Maria Zakharova remarked on Friday.
She was referring to comments from February 2022, when Scholz insisted that Russia's claim that Kiev has been committing genocide in Donbass is "ridiculous."
"It was the biggest mistake of his life," Zakharova claimed in an interview with German author and war correspondent Thomas Roeper. She added that the remark will stain Scholz's legacy more than any of his "political blunders."
"Every person is free to form their own opinions, their attitude towards life. Everyone can have doubts and seek the truth. But you cannot make light of the grief of people who are losing their loved ones each year," Zakharova stated.
The spokeswoman added that Scholz's words were cynical, given that the Ukraine crisis "has been orchestrated by the West."
Moscow has accused Western countries of encouraging nationalistic and anti-Russian sentiment in Ukraine. President Vladimir Putin cited the need to protect the people of Donbass and Kiev's failure to implement the 2014-15 Minsk peace accords among the reasons for launching the military operation in Ukraine in February 2022.
Russian officials have also accused the West of turning a blind eye to civilian deaths in Donbass. According to Moscow, around 5,000 people have been killed and nearly 9,000 wounded by Ukrainian troops since 2014.
Kiev denies killing civilians and has accused Russia of committing genocide in Ukraine. Moscow maintains that its armed forces are only targeting military and military-linked targets.
You can share this story on social media: