Russian watchdog addresses 'radioactive cloud' reports
The statement by Rospotrebnadzor follows a claim by a top security chief about a "radioactive cloud" heading towards western Europe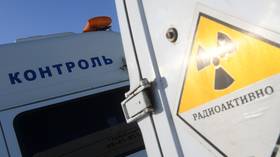 Radiation levels in Russia remain at normal, the country's consumer watchdog Rospotrebnadzor said on Friday. The announcement was made shortly after the Secretary of the Russian Security Council, Nikolay Patrushev, claimed that a "radioactive cloud" from the destruction of a store of depleted uranium munitions in Ukraine was heading towards Western Europe.
"The radiation situation in our country remains stable. No excess radiation background has been detected," the consumer agency said, adding that it carries out constant monitoring of radiation levels in Russia.
Earlier on Friday, Patrushev had said during a government meeting that "a radioactive cloud [is] moving towards Western Europe," with Poland having already recorded an increase in radiation.
According to the security chief, the hazard was created after the destruction of a Ukrainian ammunition depot in the city of Khmelnitsky last Saturday, which Russia says contained UK-supplied shells with depleted uranium. The munitions were intended to be fired by British-made Challenger tanks.
Moscow has previously harshly criticized London's decision to provide the Kiev forces with depleted uranium shells, saying that the weapon could cause long-term damage to the environment and public health. British officials have denied such a risk.
Earlier this week, Polish authorities rejected media reports of a spike in radiation being detected in the eastern city of Lublin.
You can share this story on social media: