Ukrainian diplomat fears 'terrible summer' ahead
The country's troops may have to pay a "terrible price" in a planned counteroffensive, envoy Vadim Pristaiko said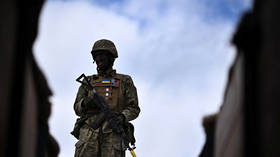 Ukraine could suffer heavy losses during its much-anticipated counteroffensive against Russia, Vadim Pristaiko, Kiev's ambassador to the UK, warned on Thursday.
In an interview with British broadcaster ITV, the diplomat said: "I know that it can be a very terrible summer and the price is terrible."
Pristaiko also said Kiev's Western backers have piled "too much pressure" on Kiev and have built up "too much expectations" about the spring campaign.
When asked to comment on why Ukraine maintains its position on not revealing its losses in the conflict, Pristaiko replied: "internally, we understand how many of us are already killed and lost."
"We understand that it will be extremely difficult to fight with a nation that is 16 times bigger than us," the envoy said. "But we are determined to do it and we are not going to tell Russians how painful it is – they know it is painful and we know it is painful".
The Ukrainian ambassador also acknowledged that while US President Joe Biden and his administration have emerged as one of Kiev's most staunch supporters, his successor might prove to be less willing to help the country.
"One of the weaknesses of democracy is the cyclical nature, and we have the same… we have to take into account this cycle in politics," he said.
"We understand that the time might come that we won't enjoy such great support, that is why we have to put all the pressure right now", Pristaiko said. "That is why we are asking our friends, can you bring everything to the table? Allow us to have a decisive push this time."
For several months, Ukraine has been speaking about a counteroffensive against Russia to reclaim territories Kiev considers as its own, but some officials have complained about a lack of ammunition, weapons, and even adverse weather conditions.
Last week, Ukrainian President Vladimir Zelensky stated that his country is basically "ready" for its launch, but "still needs a bit more time" as it waits for more Western weapons.
Last month, The New York Times reported that there are no guarantees that the Ukrainian counteroffensive will succeed, adding that an underwhelming outcome would likely prompt Kiev's backers to press it to negotiate for peace.
You can share this story on social media: