Wall-piercing Russian rocket slated for Ukraine battlefield – producer
The recently developed S-8OFP unguided air-launched projectile is touted as offering a greater payload than other munitions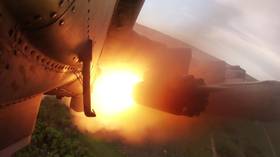 A new Russian air-launched rocket with increased range and firepower has gone into serial production and could be deployed in action against Ukraine this year, its manufacturer has reported.
The deputy director of defense producer Tekhmash, Aleksandr Kochkin, shared the news about the S-8OFP with RIA Novosti on the sidelines of a military exhibition in Belarus on Wednesday.
The rocket, which is nicknamed 'Broneboyshchik' (armor piercer), is the latest addition to the S-8 family of unguided projectiles meant for aerial platforms, including close air support planes and helicopters. According to Tekhmash, the weapon's main feature is a new engine that uses a more powerful propellant.
This has allowed the propulsion part of the rocket to be reduced, providing engineers with a greater payload allowance. The rocket is tipped with a new warhead designed to penetrate walls and other obstacles, if necessary, before detonating. Previous versions had other types of payload, from regular high explosives to flechette antipersonnel projectiles.
Open-source data states that an S-8OFP can deliver its 9kg warhead to a target up to 6km away. Like the rest of the rocket family, the projectile has a caliber of 80mm and is compatible with standard 20-tube and seven-tube launchers used by Russian military aircraft.
The Russian Defense Ministry released footage in 2018 of S-8OFP deployments from a helicopter during trials. The following year, Tekhmash reported that the weapon had successfully completed tests and was cleared for service.
Kochkin spoke to RIA Novosti in Minsk, which is hosting the four-day MILEX-2023 expo this week. He also reported that his company, which is a subsidiary of Russian military conglomerate Rostec, had boosted production of projectiles for multiple rocket launch systems by 20 times compared to last year. Mass production of time-tested weapons is currently a priority for the firm, he noted.
You can share this story on social media: